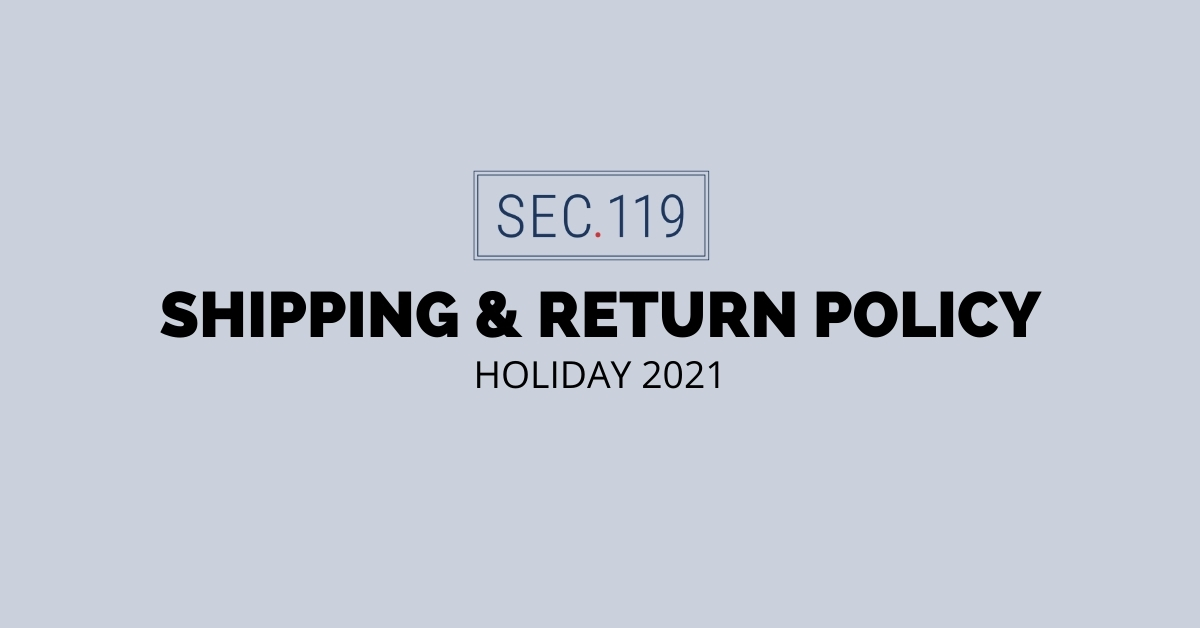 Hey! Thanks for shopping with Section 119 this holiday season. Supporting Section 119 means supporting small business and we can't thank you enough for supporting our passion.  
We're Grateful that the holidays are around the corner to take time to celebrate with our families on surviving (barely) another year. We are doing everything in their power to prepare for this holiday season. Here are some new holiday shipping guidelines to help make your gift buying experience as successful as possible.

Lead Time: Orders may take up to two-business days to ship

Usually, we are really good about shipping your order either the day it comes in, or the following business day. We have staffed up, and are ready, but during the peak season (between now and year end), we may require an extra day to handle the increase in orders. This means if you order on Monday, your order may not be able to ship until Wednesday.

Our warehouse fulfills orders Mon. - Friday
This means if you order on Friday, your order will likely ship the following Tuesday.


Delivery Delays

We love our delivery folks, but they have warned us: we may experience unprecedented delays.
If you opt for standard/ground shipments, allow for an additional 7 days.


If you opt for expedited shipments, allow for an additional 4 days.

Christmas Arrival

We want nothing more than your order to arrive in time so you can give it to your loved ones. We recommend ordering as early as possible to avoid delays and missed windows for holiday gifts.

Use these dates as an unofficial guide for shipping options and when to place your order so they can likely arrive on time:
*Standard orders must be placed no later than December 9th
*Expedited orders must be placed no later than December 16th

*We cannot guarantee Christmas arrivals even with these mentioned because carriers are not guaranteeing delivery.*


Returns & Exchanges

Our normal return policy lasts 30 days but have no fear! We are extending our returns policy until February 10th for all orders placed in November and December. The holiday stress is real and we want you to know you are in the right place.

If the epic shirt your mom ordered you is too small, we are more than happy to get you the right size as long as we have it in stock, even if it is a month past Christmas.

Lost Packages

If your package gets lost in the mail, you must make a claim to the carrier. This might take some time and we will be with you every step of the way. We will do our best to make this process easy and stress free.


If a package is marked delivered and you did not receive it, please check with your neighbors or door camera to see if the guy who used to scalp tickets on the lot is now trying to up his career to a porch pirate. If your package is marked delivered through the provided tracking link, but was unable to be received, please allow 2-3 additional days then reach out to us. In this case, both parties should file a claim with the carrier. We cannot replace unreceived packages marked delivered through the provided tracking link.
Thanks again for joining our band in Section 119. Happy holidays & we hope to catch you out on tour!